Schedule an Appointment
Hot Water Tank Replacement Cape Coral FL
Whether your hot water tank is heating or not, homeowners must check for leaks regularly. If left unattended, a small crack in your hot water tank could be the culprit behind a significant problem. Fortunately, we provide an expertly crafted hot water tank replacement Cape Coral. Our licensed technicians are trained to handle all aspects of water heater replacement Cape Coral and can offer you relief from the cold. 
Scott's Plumbing is expert at hot water tank replacement, and we've been in the plumbing business for over 15 years. This inspires trust; we've got the knowledge and experience to help you throughout all your plumbing activities. You deserve a hot shower — don't let similar problems keep you out of one!
Maintenance Tips For Your Hot Water Tank
Hot water heaters are a significant part of the plumbing system. They provide hot water to the entire house, and they do it all day, every day. That's why it's certainly essential to keep an eye on your hot water tank and make sure that it's working correctly.
Pay Attention to the Sounds Your Hot Water Tank Is Making
If your hot water tank starts producing strange noises, you know something is wrong. If you really hear a knocking or clicking sound, this can indicate that there is something wrong with the heating element or thermostat, which can cause the water to overheat and become damaged. Call Scotts Plumbing Experts immediately if you notice any unusual sound coming from your hot water tank.
Check Your Hot Water Tank's Thermostat Frequently
When it comes to hot water tanks, thermostats have an essential function: they regulate how hot your water gets before it reaches your faucet or showerhead. If you notice that your thermostat is set too high or too low for comfort (or if you notice that it's malfunctioning), contact Scotts Plumbing Experts immediately so we can fix or have a hot water tank replacement cape coral the problem as soon as possible!
Have Your Hot Water Tank Inspected by a Professional Regularly
It would help if you had your hot water tank inspected at least once every year by a professional plumber from Scotts Plumbing Experts in Cape Coral, FL. The reason for this is that they can identify any issues before they become serious problems or lead to dangerous situations in the home. They'll also check the quality of the installation and make sure that there aren't any leaks or fractures in the pipes or tanks themselves.
Clean and Flush Your Hot Water Tank Annually
Water heaters can build up sediment in their tanks over time. This sediment can cause problems like leaks or corrosion on pipes and heating elements. To prevent these problems from arising, you should clean and flush your hot water tank annually. If you've never done this before, here's what you need to know:
Remove the valve caps on both sides of the tank (the ones that are visible when you open the access panel).
Flush out sediment by running at least 2 gallons of warm water through each faucet until they run clear (this will take several minutes).
Watch Out For Fractures and Leaks
If you notice any damage or leaks in your hot water tank, it should be replaced immediately. Even minor fractures can lead to leaks, which could cause extensive damage if they aren't addressed quickly enough. If you notice that there are any signs of leaking around the faucet or showerhead, it's time for a new hot water tank installation!
Invest in a Reliable Water Heater, Not One That's Cheap
When buying a water heater, one most important thing is that you get what you pay for. If you spend on a water heater that will give you reliable service and not just a meager price, then you are going to be happy with your purchase. For example, if you buy a used water heater from Craigslist or from some other source, there's no guarantee it won't break down on you within the first year or two of use. You can find yourself in a place where your hot water is broken.
If you do choose to buy a used water heater, make sure it comes from someone who knows what they're doing when it comes to installing and maintaining these devices. If the person selling it can't give you any assurances about how long it will last and whether or not they've had any problems with it in the past, then don't buy the product.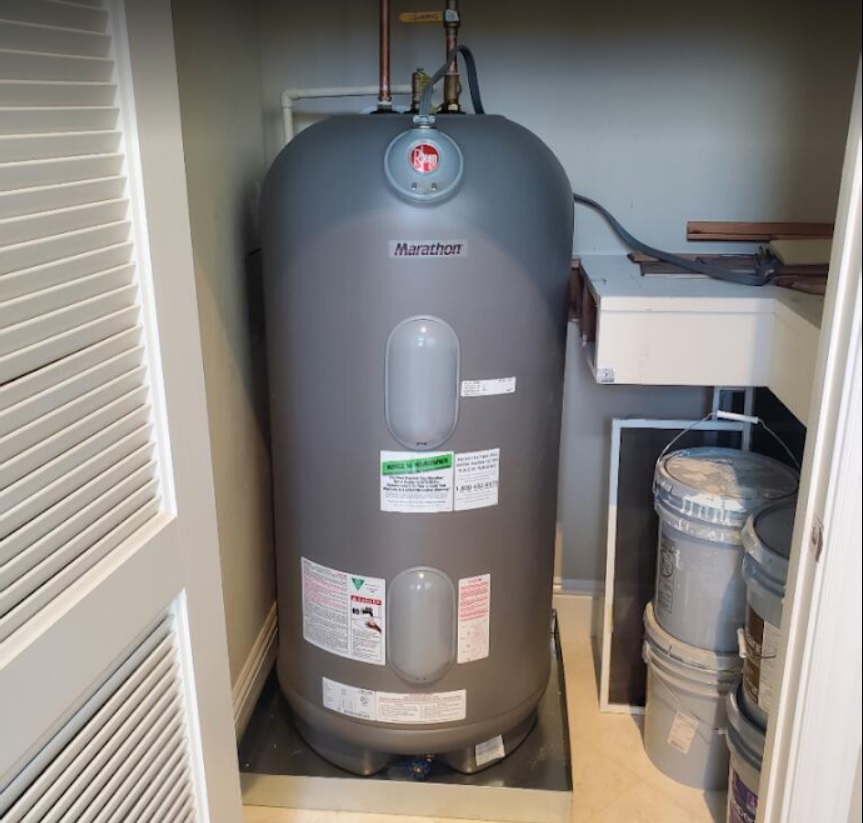 Call Scotts' Plumbing Experts for a Hot Water Tank Replacement Cape Coral
The bottom line is that time is of the essence when dealing with plumbing emergencies. So if you live in Cape Coral, you don't want to rely on an amateur, inexperienced plumber. Instead, hire a professional like Scott's Plumbing–one who knows the area and has experience working in your particular neighborhood, who knows how to identify the problem with your plumbing system, and who will get the job done right the first time. Having experience working in this industry for more than 15 years, we are well aware of the significance of maintaining a trustworthy reputation. Because of this, when you contact us, the person who answers the phone is us. You won't be required to wait on the phone with agents; instead, you'll speak with our experienced and knowledgeable proprietors, who will provide you with the assistance that you require at the time that you need it.
Hot Water Tank Replacement Cape Coral, FL - FAQs
Southwest Florida is home to the city of Cape Coral, which is located in Lee County, Florida. Cape Coral's history dates back 40 years, when two brothers, Leonard and Jack Rosen, realized that the area's location on the Gulf Coast might afford nearly limitless prospects for beachfront living in the ample sunshine. Thousands of riverfront residential homes on canals exist in the city, many of which have direct saltwater access to the Gulf of Mexico. The South Cape Hospitality and Entertainment Association arranges pub crawls in downtown Cape Coral during the tourist season. The trolley service runs along Cape Coral Parkway and will transport you to nine different establishments. It usually takes place on Friday and Saturday nights. Nice Guys Pizza and Nevermind Awesome Bar, as well as a few other restaurants in the downtown Cape Coral strip, are open late.