Schedule an Appointment
Trenchless Sewer Repair Cape Coral, FL
A broken sewer line used to mean a backhoe would be excavating a hole from your house to the street, destroying your yard. It's a good thing today's trenchless solutions only require minimal digging to secure your property.
The trenchless sewer repair Cape Coral method is ideal for homeowners who want to avoid digging up their yards unnecessarily or having unsightly trenches cut into their property. This technique of pipe repair can also be used on homes that have experienced flooding due to clogged drains or other issues with their sewage system. Additionally, trenchless sewer systems can also be used in areas where there is not enough room for traditional digging methods because they do not require any excavation at all!
What is Trenchless Sewer Repair?
Trenchless sewer repair is a modern technique for repairing broken pipes that employ machines to run new pipes through the old system without excavating the ground. This procedure is very effective when there are numerous lines in the same region, but just one needs to be fixed.
There are two main ways to perform trenchless sewer repair, which are known as pipe bursting and pipelining. The first method involves using a machine with a rotating head that cuts into the existing pipe and pulls out the old one while simultaneously pushing in a new one. The second method involves using a machine with a rotating head that melts into the existing pipe and pushes it out while simultaneously pushing in a new one.
Trenchless sewer repair can be performed on both horizontal and vertical pipes and requires little or no digging at all.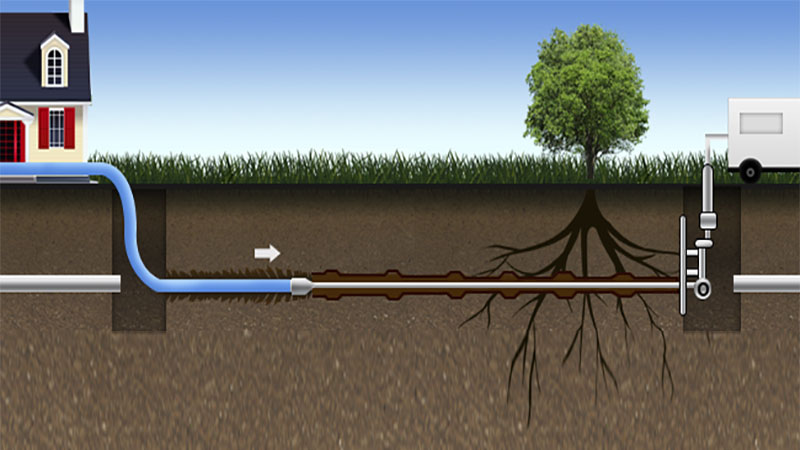 Why Do You Need a Trenchless Sewer Repair Cape Coral?
If you're looking for a trenchless sewer repair, there are many reasons why it's the right choice.
Prevents Landscaping Damage
Most of the time, trenchless sewer repair is done without digging up your lawn or garden. So you won't have to replace any plants or potted flowers that were uprooted during the procedure. If you're concerned about how this will turn out, don't be! When done right, trenchless repairs look just like regular concrete work and blend seamlessly with surrounding trees and plants.
Preserves the Natural Environment
Sewer pipes can be installed without disturbing wildlife or ecosystems by using new technologies like pipe-freezing and pipe-jacking techniques. Trenchless repairs don't disturb groundwater or other natural resources surrounding your property. They also don't require any additional excavation or dumping at nearby landfills that might harm wildlife habitats or sensitive ecosystems.
Saves Money on Sewer Repair
Trenchless sewer repair saves money on sewer repairs because there are no expensive excavation costs involved in fixing a broken pipe with this technology. This often implies that you'll be able to return to your usual life far sooner than if you hired someone else to undertake typical excavation work for them instead.
Minimizes Traffic Disruptions
With trenchless sewer repairs, your work can be done in one day instead of weeks or months. This means that you won't have to worry about having to detour around the construction site and waste time on your commute. It also means that you can get back to your normal routine as soon as possible after the repairs have been completed.
Reduces Other Inconveniences Like Noise
Trenchless repairs reduce other inconveniences like noise because they don't need to dig up your lawn or driveway. With traditional methods of repairing sewers and pipes, you can expect loud machinery and lots of noise from jackhammers drilling through concrete or asphalt—but with trenchless methods, none of that is necessary.
Lessens the Likelihood of Repairs in the Future
Lastly, trenchless sewer repairs lessen the likelihood of future problems because they use specialized equipment that minimizes damage to existing structures (like your sidewalks or driveway). Traditional methods expose more surface area during excavations, while trenchless methods don't require any digging at all.
Our Trenchless Sewer Repair Cape Coral Process
The repair of your sewer can be divided into three steps: inspection, cleaning and repairing. To inspect your sewer system, we employ a high-resolution video camera. We wouldn't know where the pipes needed to be repaired or what was wrong with them without an inspection.
After determining the source of the sewer problem, we must clean the pipes to ensure that the repairs last. We use a specialized device that allows us to remove any debris and sediment buildup from inside your pipes and clean out any cracked or damaged areas.
Finally, we make any necessary repairs to ensure that your sewer lines are in good working order again.
Schedule an Appointment With Us!
At Scott's Plumbing, we are the go-to trenchless sewer repair experts in Fort Myers. A trenchless sewer repair is a great option for homeowners who want to avoid having to dig up their yard in order to fix their pipes. With trenchless sewer repair, we can access your sewer lines through an opening on your property that is less than six inches wide. This eliminates the necessity for digging deep holes to reach the issue location. We take great pleasure in being able to deliver prompt service at reasonable prices to all of our clients in the Fort Myers area. Our goal is always to keep our clients' properties intact during our work so that they can resume using them as soon as possible. Contact us for more information on our plumbing services.
Trenchless Sewer Repair Cape Coral, FL - FAQs
Cape Coral is located near Fort Myers and within sight of the glimmering Gulf of Mexico. This beautiful city is a renowned tourist destination due to its renowned Gulf Coast beaches, verdant golf courses, and popular family attractions such as Sun Splash Family Waterpark. With more than 400 miles of canals, boating, fishing, and water activities significantly improve the standard of living in Cape Coral. The golf courses, tennis courts, athletic parks, and nature preserves here are an added plus. Cape Coral also has the greatest amount of lagoons with residences constructed on them in the world. As a result, you'll be able to enjoy seaside living. From your rear dock, you may go fishing, swimming, boating, skiing, and more.