Schedule an Appointment
Sewer Line Repair Fort Myers FL
Tired of dealing with sewage lines? Do your pipes endure only a few months after you spend time and money repairing them? Stop accepting it and put an end to it!
Scott's Plumbing will help you find a long-term solution to sewer system problems. Our plumbers will meet with you to discuss your needs and identify the best course of action.
Because we only make use of the most appropriate machinery for the job at hand, you can rest assured that we will finish the assignment in a timely manner. We only use high-quality tools and materials in the design and construction of your pipes, so you can absolutely rest assured that they will serve you well for many years to come.
Signs You Need a Sewer Line Repair Fort Myers
First, determine the problem with your home or business's sewer line. Look for any of the following indications to see whether you have a sewer line problem:
If you detect an unexplainable foul stench coming from your kitchen or bathroom sink, your sewer line may be clogged. Sewage can back up into your home and generate foul aromas if a pipe becomes clogged or leaks. This could be due to a sewage backup or an impediment.
If your drain takes longer to empty than usual, there could be a blockage in the line leading away from your home. Roots developing within the pipe or debris within the pipe can also cause a delayed drain. If you notice any of these drain issues, it may be time to repair your sewer line.
Sewer lines are often constructed of steel or PVC pipe, which corrodes when exposed to moisture from septic tanks or other sources. Corrosion of these pipes creates ideal circumstances for mold development within your home or crawlspace. You may notice black stains on ceilings or walls where mold has been allowed to grow unchecked for months or even years!
The devastation that can be caused by sewage backing up into a home or place of business is something that you are likely familiar with if it has ever happened to you or to someone you know. Sewer backups are not only an annoyance and a health issue, but they may also damage your property and make you sick. The smell of raw sewage may make anyone sick to their stomach. If you have any cause to believe that your sewage line is damaged or obstructed, contact a plumber as soon as possible.
Changes in Water Pressure
If you notice that your water pressure seems to fluctuate or change suddenly, this could be an indicator that there's something wrong with your pipes. The pressure can go up or down depending upon where in your home the problem is located and how close you are to an open valve or spigot. Another sign of low water pressure is reduced flow from sinks and tubs — this means less water comes out than usual when you turn on taps at full blast.
If you hear a continuous gurgling sound coming from your drains, it might be caused by an obstruction in the sewer line. A common cause of this is tree roots growing into the pipes. This is especially common if you live near a body of water or if you have an older home with clay pipes. If this happens frequently, it's best to call in a professional plumber to clear the clog and prevent it from happening again.
Cracks in Walls or Foundation
If you have noticed cracks in your walls or foundation, this could be an indication of a broken sewer line under the property. Cracks are usually small at first but may get larger over time depending on how quickly they are growing and where they are located. A professional can determine whether it's necessary to replace the entire pipe system or just repair parts of it to prevent further damage to your home.
Our Reliable Sewer Line Repair Process
Many homeowners are afraid of sewer line repair, but this does not have to be the case. You do not need to be concerned about any additional delays or setbacks because our procedure is simple and effective.
Our first priority is to determine the source of the problem. We employ cutting-edge technology to pinpoint the exact location of your damaged line as well as the type of plumbing repair that will be most effective. Following that, we will work with you to determine the material and design that will best serve the specific needs of your home.
Our staff will begin work on the repairs after we have decided on a strategy. After the repairs are completed, we will test everything to ensure correct operation before issuing the final bill.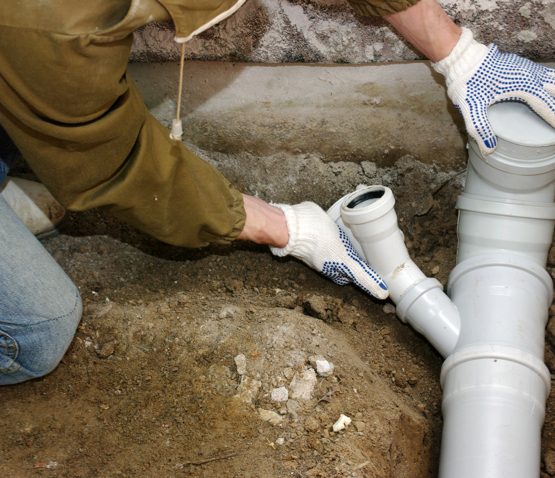 Top-Notch Sewer Line Repair Services in Fort Myers, FL
Sewer lines are underground plumbing systems that transport wastewater from one location to another. The most frequent materials utilized in their construction are clay, concrete, cast iron, or PVC pipe. Although they are long-lasting and durable, they may develop faults such as leaks or cracks with time, necessitating repair services. If you hear the toilet running or notice a leak beneath the sink, please do not hesitate to contact one of our plumbers.
At Scott's Plumbing, we offer top-notch sewer line repair services in Fort Myers, FL. Our fully licensed and definitely insured team is trained in all facets of plumbing and can handle any problem with your sewer lines—from small issues like leaks and clogs to larger problems, including collapsed pipes or broken valves. We offer emergency service so that you never have to wait long for help when you need it most.
Our technicians use state-of-the-art tools and equipment when working on your sewer line repairs so that we can ensure the job gets done the right first time around every time. Additionally, they will ensure that everything is cleaned up when they have completed their work, leaving you with no problems to worry about.
We truly know how important it is to get your pipes back up and running as quickly as possible, so we do everything possible to get the job done as fast as possible while still maintaining high-quality standards. Whether it's an emergency plumbing concern or just a routine checkup, our team is always ready for whatever comes their way.
Our Sewer Line Repair Services Are Quick, Clean, And Efficient
We're sure you've had a lot of experience with the slow, messy, and inefficient sewer line repair services that exist in the market today. It can be such a hassle to deal with these services, especially if they don't even get the job done right. But now there's a better way! We offer trenchless sewer line repair services that are fast, clean, and efficient—and we'll get the job done right the first time!
Our trenchless sewer line repair services use state-of-the-art technology that makes it possible for us to complete our work quickly and efficiently. You won't have to worry about having workers tearing up your yard or leaving behind an unsightly mess because we use only environmentally friendly materials. And because we've dealt with a wide variety of pipes and drains, no plumbing task is too big or too small for us!
Why Should You Choose Our Sewer Line Repair Services?
Your home's sewage line serves as the first line of defense against muck, trash, and garbage that may enter your property. Even though it is not visible, it still needs to be maintained. You must trust your pipes! In Fort Myers, FL, Scott's Plumbing can supply experienced plumbers for the maintenance and repair of sewage lines.
You may rest easy knowing that we will solve the issues you're having with the Plumbing in a quick and professional manner. Our plumber is able to give you an exact assessment of the problem you are having with your plumbing by making use of the most modern plumbing equipment. We will then make a recommendation for the plumbing solution that will best meet your needs. 
We are able to complete projects in a timely and effective manner since we have access to the most modern tools and machinery. Not only do we have state-of-the-art machinery at our disposal, but we also have an in-depth knowledge of the plumbing mechanics involved. Get in touch with us at (239) 288-9606, or fill out our online form to learn more about how our team of Fort Myers plumbers can assist you with your sewer line repair needs!
Sewer Line Repair Fort Myers FL - FAQs
Located in the state of Florida, Fort Myers has become one of the fastest-growing areas in the United States and now ranks as one of the strongest in terms of jobs and economic strength. To put it another way, residents are happy; the city itself is beautiful, and reasonably affordable housing is available for those looking for a place to spend their senior years. The 15-mile-long McGregor Boulevard in Fort Myers, Florida, is surrounded by towering royal palm trees on both sides of the road. The first 200 Cuban palm palms were imported and planted by Thomas Edison. Ponce de Leon, a Spanish explorer, made his first voyage to Pine Island in 1513. Later, he was killed by a Calusa Indian arrow while swimming in these waters. This region of the United States is thought to have been explored by Ponce de Leon before any other tourists.