Schedule an Appointment
Sewer Line Repair Lehigh Acres FL
When your sewer line bursts, it can cause a lot of problems for you. The good news is that our skilled plumbers in Lehigh Acres FL have the knowledge and skills required to repair and replace sewage lines. We are known for providing speedy and economical service.
Our professionals can examine sewage system issues and recommend remedies to help prevent future issues. In addition, we offer trenchless pipelining, which covers existing leaks while preventing new ones from emerging. Our staff will respond immediately to any and all pipe difficulties you are currently experiencing, regardless of their kind.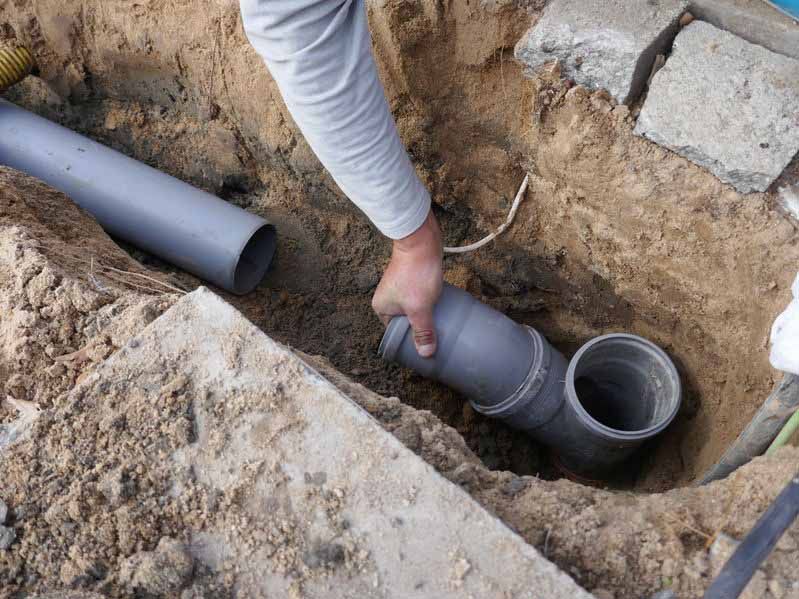 What Is a Sewer Line's Purpose?
We won't be able to provide a reliable guide on sewage line repair and replacement unless we first explain how sewers work. Let us go over our coverage once more.
The water main delivers safe drinking water to your home for flushing and cleaning. When water is used, it enters the sewer pipe. This applies to both gray and sewage water. This is what your toilet waste looks like. Use a septic tank if you live off the grid.
A well-working sewer line is imperceptible. The toilets flush swiftly, the drains readily accept liquid, and so forth. A clogged or damaged sewer line will be visible.
Signs That Your Sewer Line Needs Repairing Reliably
Determine first what the issue is with the sewer line that serves your home or company. If you want to determine whether or not you have an issue with your sewer line, look for any of the following indications:
If you smell something unpleasant coming from your kitchen or bathroom sink, it's possible that there's a blockage in your sewer system. If a pipe in your home becomes clogged or leaks for whatever reason, sewage may overflow into your home, causing unpleasant odors. This can be because of a sewage backup or an obstruction in the way.
Clogged Or Moving Very Slowly Drains
If it really takes longer than usual for your drain to empty, there may be a clog in the line that leads out from your house. A delayed drain may also be caused by the development of roots within the pipe or the accumulation of debris within the pipe. If you observe any of these stressful problems with your drains, it is possible that it is time to repair your sewer line.
When exposed to moisture from septic tanks or other sources, sewer lines are often made of steel or PVC pipe, both of which corrode with time and need to be replaced. When these pipes corrode, it produces conditions that are just right for the growth of mold inside of your home or crawlspace. In areas where mold has been allowed to grow unchecked for several months or even years, you may find that the ceilings or walls have developed dark stains.
If sewage has backed up into your home or company, you know the damage it may cause. If you or someone you know really has experienced this, you know it. Sewer backups are an annoyance and a health danger. They can also cause property damage and illness. Raw sewage may make anyone sick. If you suspect your sewage line is broken or obstructed, call a plumber immediately.
Sewer Line Repair: Why Go with a Pro?
If you want sewage line repair, it is essential to call a licensed plumber. You don't want to do this type of work yourself since it's potentially risky, and you don't want to employ an incompetent amateur.
A licensed plumber has the education and skills necessary to repair your sewer line quickly and effectively. They will have the appropriate equipment and materials, and they will know how to utilize them safely. They understand how all the components of your plumbing system work together to create a unit that performs as it should, and they will be able to address any issues quickly and effectively.
In addition, they will have access to the most advanced methods for fixing your sewer line. Many homes in modern cities have outdated pipes that need to be replaced, but allowing an unqualified individual to do so could cause more harm than good.
Get in Touch With Our Sewer Line Repair Experts!
The sewer line in your home is the first line of defense against any muck, waste, or garbage that may find its way onto your property. Even though no one can see it, it is essential that it be kept in good condition. You must trust your pipes! In the area of Lehigh Acres FL, Scott's Plumbing is able to provide experienced plumbers for the purpose of sewage line repair.
Our crew will diagnose your problem accurately and then recommend the best plan of action for your needs. We use cutting-edge tools and machinery so that jobs can be finished quickly, efficiently, and cost-effectively. Our plumbers are seasoned professionals who understand the necessity of getting the job done quickly, but they never sacrifice quality. We take great pleasure in our work, so you can be confident that your sewage line repair will be handled by a skilled professional in a timely way.
Sewer Line Repair Lehigh Acres FL - FAQs
In Lehigh Acres, with a population of approximately 80,000 people, you'll find a wide range of interests. Twelve miles east of Fort Myers, in Lehigh Acres, you'll find ponds, lakes, and canals. The 175 miles of canals and 16 lakes in Lehigh Acres make it a great destination for fishermen of all ability levels, from novices to seasoned veterans. Grouper, mackerel, redfish, snapper, snook, and trout abound in the Gulf of Mexico and the barrier islands that surround it. In addition to boating, fishing is a popular pastime in these waters. For a challenging round of golf, head to one of Lehigh Acres' four championship courses. With parks, lakes, tennis courts, and safe roads excellent for bicycling or strolling, this quiet suburb is ideal for families or even retirees searching for a low-cost and relaxing vacation.